Patents
New molecules against superbugs
Bacterial resistance and the consequences of superbugs' infections during hospitalization are one of the major concern of the new millennium.
Dr. Andrea Pace's research group, in collaboration with Dr. Cosimo Gianluca Fortuna (Università di Catania) and Dr. Rosario Musumeci (Università di Milano Bicocca) has developed a series of oxazolidinone compounds of general formula (I) which possess antibiotic activity against multidrug resistant Gram positive pathogens, including bacteria resistant to linezolid, one of the "last defense" antibiotics in clinical use.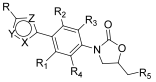 This series of compounds, which has been submitted for patenting, presents lower than linezolid toxicity, thus offering an ideal profile for further clinical/therapeutic development. The research group is currently looking for sponsors to finance the second phase of experiments and the international extension of IPR.